Description
The Forest (PC) – Steam Gift – GLOBAL
Warning!This product is region locked and CAN NOT be activated in following countries: Germany, Australia.
The Forest is a unique survival horror video game initially released by Endnight Games in 2014. The game soon became easily one of the best survival horror simulators up-to-date, available on many platforms. PC game version was released on April 2018 and since then was improving in the long run, still developed and supported by the small, yet ambitious studio.
Gameplay
Survival on the deserted island is already hard enough, yet the forsaken place hides an even more terrifying challenge. Soon as the sun descends below the treeline at dusk, the seemingly peaceful forest reveals its dark secret, as the tribe of human-like mutants begins its advance towards your shelter. Are you going to become a hunter or prey?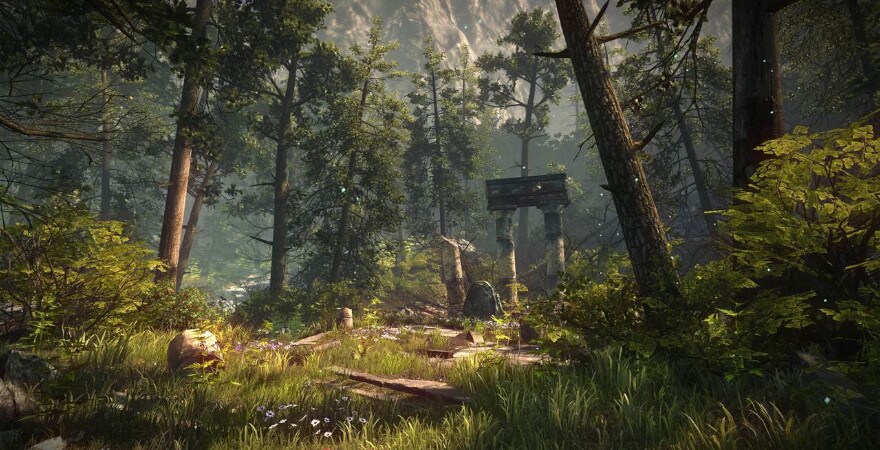 The open world of The Forest is almost fully interactive. With the variety of crafted tools, you can cut down any tree or plant you can see to create new tools and constantly improve your wooden safe house against the night's invasions of the mysterious mutants. The fights are intensive and gore and the enemies are as frightening as they are demanding. The mutants act erratically, either watching you from the distance and keeping you in thrilling suspense or suddenly surprising you with use of their group's intelligent tactics.
Game modes in The Forest game
As the player, you have a great dose of freedom in how fast and effectively you are going to unravel the blood-thirsty tribe's story and protect your new home against the inevitable invasion to survive another dawn.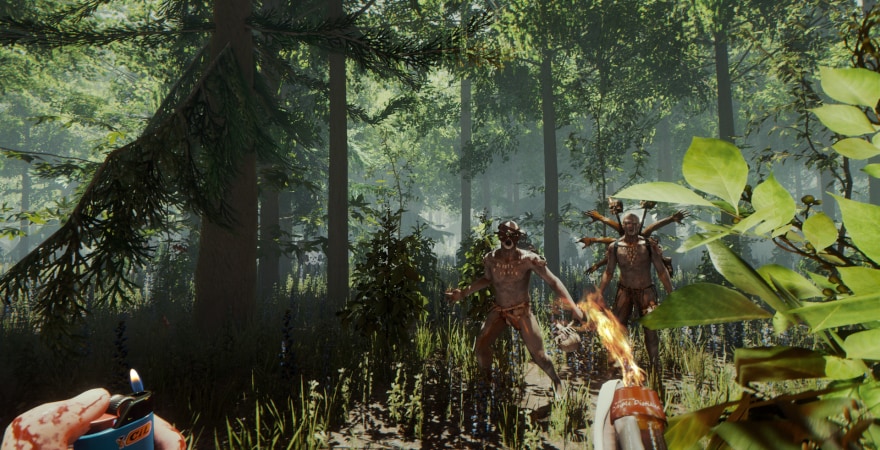 Aside of trying to survive alone, you can take part in up to 8 players co-operative against the horror of the night, which adds a new layer to the gameplay and makes it even more challenging to master.
Reception
Being just the second title of the studio, The Forest for PC is already renowned for the best quality player experience and immersion into the story, with powerful open world gameplay features. What is being praised the most in the game, however, is its unearthly spooky atmosphere. It's easy to lose yourself in the simulator's beautiful location of the deserted island filled with vast forest and deep caves, both dripping with echoing whispers of the jungle's dark secrets.
Key features
Experience the thrill of a fully interactive open world. Immerse yourself in a vast, breathtakingly alive forest, with every tree and plant possible to be cut down and collected. Build a durable safe house, master the fire and make your own tools to defend yourself against brutal enemies.
Design your survival. Craft your own weaponry and set of savage tools of the natural materials found in the forest and many useful items collected during your expeditions. Survive without starvation by scavenging for food or by planting seeds to grow your own.
Explore and build at day. Roam through your new home in the forest and discover the enormous system of underground caves and lakes. Develop your shelter into a steady fort or take a risk to learn about the island and gather around as many tools of survival as possible.
Fight or hide at night. Use your stealth to evade the enemies or engage in an intensive gore fight with human-like mutants that have moral standards and belief system. Withstand the chaotic raids by bunkering down for a night or arrange some strikingly organized battles with the use of traps and protective structures.
Make your survival horror experience unique. Play by yourself, or with up to 8 friends in the cooperative multiplayer game mode. You decide if to build a small hut or a huge rampart at the banks of the island and how to decorate your safe house with found trophies. Choose your tactics: shelter in a bunker or explore and raid the mutants directly if you dare. Feel free on how to survive.
Warning!This product is region locked and CAN NOT be activated in following countries: Germany, Australia.
Release date: 2018-04-30
System requirements
Below are the minimum and recommended system specifications for The Forest (PC) – Steam Gift – GLOBAL. Due to potential programming changes, the minimum system requirements for The Forest (PC) – Steam Gift – GLOBAL may change over time.
Minimal requirements
Processor

2.40GHz Pentium Dual Core E2220 / Athlon 7550 Dual Core

Graphics

512MB GeForce 8800 GT / Radeon HD 4830

Memory

4 GB

Disk space

5 GB

System

Windows 7
Recommended requirements
Processor

2.13GHz Core 2 Quad Q6400 / Phenom 9500 Quad-Core

Graphics

GeForce GTX 560 / 1024MB Radeon HD 5850

Memory

8 GB

Disk space

5 GB

System

Windows 7
Click Here to Check All games On Pc Storms 
What You Get !!
you will receive Email with the key code just copy and past it.
Download Link Of The Product
if you face any problem make sure you contact our support team in the live chat or send us message.
This Is A Digital Product You Will Receive a key code for this No Box Shipping needed so you will insurance be protected
We Offer You 100% Money Back Guarantee