Description
Bloons TD 6 (PC) – Steam Gift – GLOBAL
Bloons TD 6 is another release of colorful and fun tower defense game developed by Ninja Kiwi in 2018. In the game, the player must build an effective defense and pop the title Bloons with the help of various monkey towers, numerous abilities, and unique heroes.
Bloons Tower Defense 6 features a pool of 21 monkeys, from which 2 are totally new and 9 heroes who will help us on our Bloons poping journey. It is worth to mention that each and every monkey offers 15 upgrades significantly modifying the gameplay. In addition to that, this time BTD 6 uses fully 3D objects that can block the line of sight and make much more essential.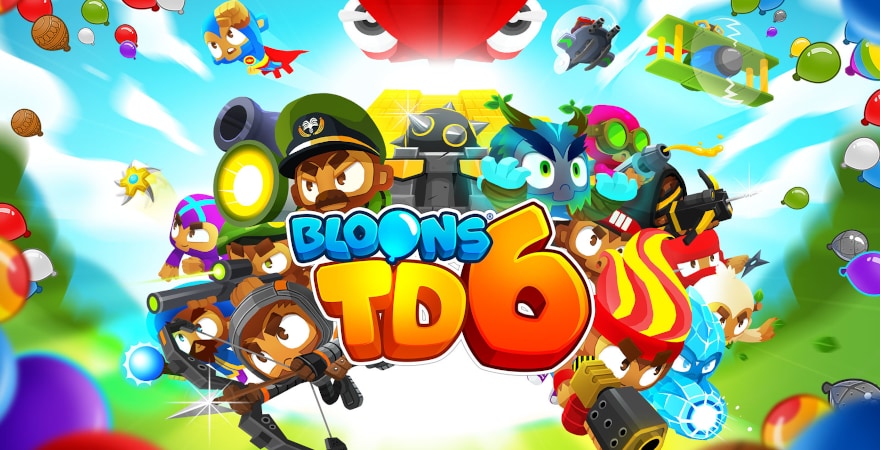 Gameplay and new mechanics
Overall, the main elements of the gameplay in Bloons TD 6 are similar to previous games of the series. However, the developers have prepared many new mechanics and introduced numerous changes in accordance to previous games such as new types of the Bloons. New Bloons have many different properties, for example, Purple Bloons will not be affected by fire, plasma or energy weapons and Fortified Bloons are, as the name may suggest, much more durable than the regular. The gameplay is being presented in a system of rounds. The game gets more challenging witch each round introducing more Bloons. Before the game begins, players may select difficulty level choosing from three available options – Easy, Medium, and Hard. After selecting the difficulty, players can choose a sub-mode. The multitude of various game modes makes the whole gameplay much more diverse than previous releases of the series.
Reception
Similarly like previous games of the BTD (Bloons Tower Defense) series, developers from Ninja Kiwi have managed to satisfy most of the players. According to the Steam platform the game received thousands of favorable reviews. Over 96% of the most recent players' reviews are positive. Many players claim that BTD 6 is one of the best tower defense games on the market and its addictive gameplay offers uncounted hours of fun.
Key features
A multitude of novelties – new types of Bloons, skills, and levels. BTD 6 features 37 new maps with some new 3D objects blocking your line of sight
Challenging and gameplay – choose your preferred difficulty level and do whatever you can to pop every single Bloon!
Different game modes – various game modes like Restricted Monkeys or Double Health will allow you to play the same level in a totally different way!
Huge Monkey roster – chose out of 21 available monkeys! Try out totally new Alchemist and Druid monkey, buy upgrades and skills!
Heroes – 9 unique heroes with alternative skins! Quincy, Gwendolin, Striker Jones and more are waiting to help you on your Bloons poping quest!
Release date: 2018-12-17
System requirements
Below are the minimum and recommended system specifications for Bloons TD 6 (PC) – Steam Gift – GLOBAL. Due to potential programming changes, the minimum system requirements for Bloons TD 6 (PC) – Steam Gift – GLOBAL may change over time.
Minimal requirements
Processor

1.5Ghz or better

Graphics

OpenGL 2.0 compatible, ATI, Nvidia or Intel HD

Memory

4096 MB RAM

Disk space

2048 MB available space

System

Windows 7 (64bit)

Other

soundCard: Windows compatible sound card
Recommended requirements
Processor

2Ghz or better

Graphics

OpenGL 2.0 compatible, ATI, Nvidia or Intel HD

Memory

8192 MB RAM

Disk space

4096 MB available space

System

Windows 10 (64bit)
Click Here to Check All games On Pc Storms 
What You Get !!
you will receive Email with the key code just copy and past it.
Download Link Of The Product
if you face any problem make sure you contact our support team in the live chat or send us message.
This Is A Digital Product You Will Receive a key code for this No Box Shipping needed so you will insurance be protected
We Offer You 100% Money Back Guarantee